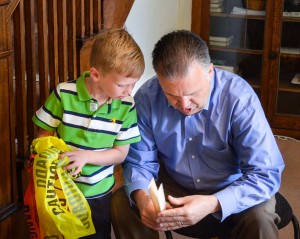 It is not enough to simply teach our children Bible stories. We need to show them the significance of biblical truth for today. Here is one suggestion for parents.

Sunday (D.V.), I am preaching on Daniel 3. This is the account of Shadrach, Meshach, and Abednego refusing to bow down to an idol.
Bearing in mind that I came through on Father's Day  with incentives (see here), our kids should really be stoked to study the text. But this time a little more work is required.
Read Daniel 3 aloud. Parents you're on the honor system here but do read the story aloud. Put it in your own words when necessary. But help your family see the text.
Draw a picture of the story on an 8.5X11 sheet of paper (or email me a computer image of the picture if it is not that size). There are all kinds of images from which to choose including a fiery furnace, a giant idol, and FOUR men in the furnace.
Draw a SECOND picture of something which can be an idol today. Remember – - idols are not just gold statues. And they don't have to be things which are inherently bad. But if good things are put in the place of God, then they are idols.
So you should have read the text and done two pictures when you are done. The homework is due by June 29.
In regards to identifying idols in our day, keep in mind the words of Elyse Fitzpatrick:
Idols aren't just stone statues. No, idols are the thoughts, desires, longings, and expectations that we worship in the place of the true God. Idols cause us to ignore the true God in search of what we think we need. Elyse Fitzpatrick
In my case, I like to read fiction. Reading fiction isn't a bad thing per se. But if I started reading fiction to the neglect of Scripture – - -in essence looking for entertainment in place of God – - then it would be sin. I'm convicted even in writing this.
So help your child think through – - "What in our world might distract us from worshiping Christ with all our heart soul, and strength."