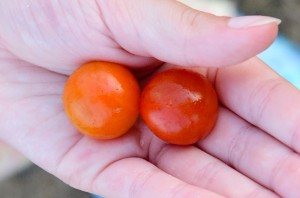 There are some moments as a father of little girls that I wish I could bottle. Tonight was one of them.
We at a Brick in the Valley are pleased to announce that Mary Beth harvested her first round of produce this evening. She was thrilled to pick two cherry tomatoes.
Our followers at a Brick in the Valley will recall that Marybeth purchased her tomato plants on May 22. May 25 was planting day.  So just under two months later, we are already enjoying the fruit of our labor.
Mary Beth, for her part, was so excited. She was out watering her garden when she spied a ripe tomato. It was hidden away and she was not aware that one was even close to being ripe. She ran into the house to share the good news and we grabbed a camera.
Mary Beth has already eaten one of her tomatoes and she believes that it tastes far, far better than anything available in the store. Even as I write she is on the phone sharing the news of her harvest with her grandfather who is a retired farmer.
You can see all our pumpkin posts here.