For decades, Joe Paterno was one who brought victories to many in State College. Now, Penn State solidarity and identification with Joe Paterno is bringing State College down. The Penn State debacle illustrates the truth that corporate solidarity is a sword which cuts in both directions. One champion can win for many. Conversely, a loser can bring down a host of others.
Corporate solidarity refers to the truth that individuals are not islands unto themselves. When we make decisions, we represent others. Others represent us. Our future and place in the world is not simply the sum of our own individual choices. On varying levels, we are roped together. 
For decades, Joe Paterno and Penn State football fed the economy of State College. Penn State gear sold like I-pods. Fans poured into State College. They ate and drank and adored their champion in his coke-bottle glasses. Penn State solidarity was embraced.
Times have certainly changed.  Now Penn State solidarity with Joe Paterno is bringing State College down. And it doesn't seem fair. Columnist Mark McCarter laments:
Many phrases and words emerged from Mark Emmert's news conference Monday morning. One that keeps resonating with me is "collateral damage to the innocent."
If the intent was to minimize that, the NCAA failed Monday in its punishment of Penn State.
Meanwhile, in all the ado over the sanctions and punishments and tossing around the phrase "death penalty," the truly innocent are once again turned into a footnote. (Read the rest here).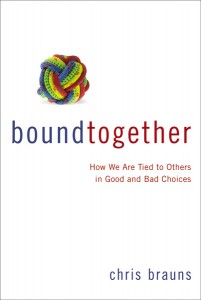 Emmert resents that the "truly innocent" had solidarity with Paterno. But Emmert's objections are as worthwhile as those of the punter who despised gravity because every time he kicked the ball it came down. Like it or not, gravity is an aspect of reality, as is corporate solidarity.  Political leaders represent their countries. Parents represent children. And coaches represent teams and their communities.
Yet, the more important point to be made is that corporate solidarity is good news, not bad. It is foundational to the Gospel. As Paul explained in Romans 5, Adam's sin brought us all down. But Paul makes the glorious point that Christ's victory is greater.
Therefore, as one trespass led to condemnation for all men, so one act of righteousness leads to justification and life for all men. For as by the one man's disobedience the many were made sinners, so by the one man's obedience the many will be made righteous. Romans 5:18-19.
To insist that we should all be isolated individuals is to argue against the Gospel. The only reason we can be saved is because the One can represent the many.
Sinclair Ferguson compares the victory of Christ on behalf of his people to a navy seal officer who prevails for his platoon:
Think, if you will, of a lone reconnaissance officer who has moved ahead of his platoon, which is in great danger. He is looking for a way of escape. He cuts his way through a jungle, only to discover himself face to face with a gaping ravine. There seems no way forward, but unless he finds one all is lost. He throws a lasso-like rope to the other side of the ravine, and manages to catch it on a tree on the far side. He then risks all by clambering across to the other side, hand over hand, inch by nerve-racking inch. He secures the rope, and manages to create a rope bridge. Eventually he leads his whole platoon over the ravine on to the safety of the other side.
Penn State solidarity is not a unique phenomena. Joe Paterno is not the only one who has failed his people. Adam did first. The first death penalty was infinitely worse than anything the NCAA could sanction (Romans 6:23a). All have plunged over the edge with Adam except one, the Lord Jesus Christ. And those who are His will share the victory with their Champion.
See also:
Jesus Our Navy Seal by Sinclair Ferguson.
The Penn State Scandal and Everyone's Hypocrisy by Joe Crispin