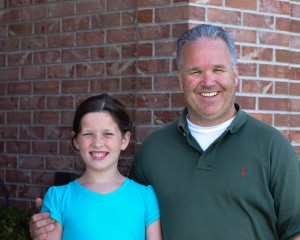 And these words that I command you today shall be on your heart. 7 You shall teach them diligently to your children, and shall talk of them when you sit in your house, and when you walk by the way, and when you lie down, and when you rise. 8 You shall bind them as a sign on your hand, and they shall be as frontlets between your eyes. Deut 6:6-8
I meet individually with our children each year before the start of school. I buy them a gift. (This year a new CD player for listening to Adventures in Odyssey), take them out for a treat (DQ this year), and we talk about our goals for the coming year (that part is private). It's not too serious. We look forward to our meetings every year. And pressure is on me to come up with a gift.
Each year after my meeting, we get a picture together.
This year is different, because for the first time, Marybeth's older sister's meeting has to do with college and not high school. The years are really flying by. So I'm nostalgic.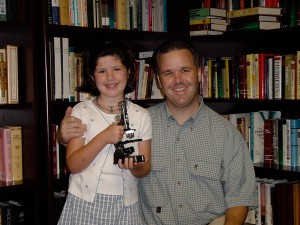 My meeting with Allison for second grade was eleven years ago. Our central point of discussion that year was that God sees all things perfectly. . . . "be careful little mouth what you say, for the father up above is looking down in love." God doesn't need a microscope.
As for the garden, Marybeth continues to reap. We have bountiful cherry tomatoes, green beans, and the pumpkins keep growing.