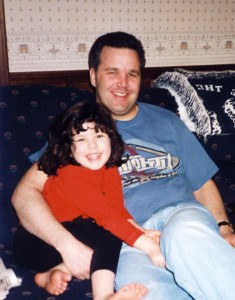 Reading the below links, I have realized I am not the only one to be hurting over a daughter who has gone off to college.
Don't get me wrong. We want our daughter to go to college. We're proud of her for working so hard to receive scholarships. We are so excited for her opportunity for a liberal arts education. We know there are many parents who have lost children one way or another who would give anything to go through the pain of a college good-bye.
But wow is it hard! I looked up last night at the door to her room at a time when it normally would have been closed and the door was open and her room is empty. It hurt.
I vividly remember that when Jamie was expecting Allison, one of our friends said, "It won't be long before your meals are interrupted by a crying baby."
She should have told me, "It won't be  long before your baby goes to college."
A few days ago when we left to take Allison to college, our nine year old walked out of the dedication service crying each step of the way. She was holding her older sister's hand with tears running down her cheeks. It is how we all feel.
So I have been commiserating with other hurting parents, and reading the thoughts of wise people who have also seen their children off to college. Thankfully, there are some excellent links.
Favorite Links About the Pain of Sending a Child to College
My favorite link thus far has been a profound article by Jen Willkin, The Truth About Child Bearing. EVERY mother should read it. Here is one excerpt:
As the years unfold we begin to understand that we have been introduced to the great truth of pain in childbearing, a pain we naively believed would be confined to labor and delivery, but that visits us at every transition we nurture our children toward: the measured inhale, the steady exhale, the mighty push. And separation. Preschool. Kindergarten. Middle school. High school. College. Career. Marriage. With a familiar aching euphoria, we push them out—from safety and provision to separation and uncertainty. It feels like they would be safer just staying with us, as if safety were the greatest gift we could give them.
Read the whole thing here.
I'm with Barry York who wrote:
Though I have been through it before, and it's coming was as sure as the seasons changing, I still was not able to fend off the sadness it brings.
I'm carrying around this strange grief because my bright, bouncy, beautiful daughter is no longer here, having been transported off to college last week.  We've come again to that stage that all Christian parenting is inevitably heading toward.  The child whose birth you witnessed, whose birthmarks you know, whose birthdays you celebrated, has moved out and will never live the same way under your roof again.
I know all the comforts that will be offered and even jokes that will be made, so do not bother writing them in the comment section.  I'm a little touchy right now. . .
Read the rest here. (HT: David Murray)
Changing Rythms offers more insights to which Jamie and I can relate:
Yesterday, it occurred to me that in two weeks' time, my youngest child will be off to university.  Every now and then over the past few weeks, he has has provided me with reminders of this eventual day, count down style:  "Mom, did you know that it's only 20 days and I will be gone?"
I am not a mom who counts down the days to when her kids leave home for school.  At least not at this point, anyway.  With my kids off to school, a new rhythm has begun, the "come and go" rhythm.
When our kids were small, we had routine and rhythm.
Read the rest here. (HT: David Murray)
And while it does hurt — it is also sweet for my pretty wife and I to go to the place where Allison will be studying.