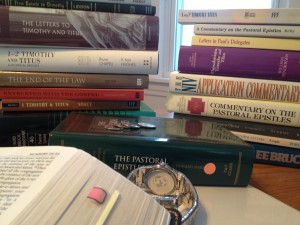 Over on our church web site, I have described how you can earn a quarter at the Red Brick Church on Sunday. The quarters up for grabs are in view in the picture to the right. They are on top of I. Howard Marshall, or his commentary on the pastorals in any case. Astute students of commentators will be able to identify most of the books in the picture.
Of course, the real hope is that people will prepare for our sermons on 1 Timothy 1:12-17. I have given 7 ways for you to do that in the post on our church site.
The book on top of the stack to the left, which you cannot see, is John Bunyan's, Grace Abounding to the Chief of Sinners. In writing his autobiography, the author of Pilgrim's Progress made the same claim as the Apostle Paul in 1 Timothy 1:15!